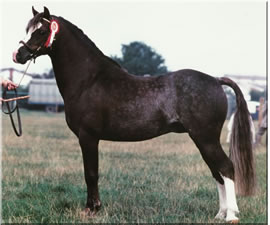 The stud was founded in 1968. The first pony registered under the Bunbury Prefix was Bunbury Mascot in 1969.
After completing all the children's riding classes I decided to breed Welsh ponies.
The first Foundation mare was Brockwell Trinket who was purchased from Mrs Binnie at Fayre Oaks as a foal. This was the beginning of a friendship that would last over 30 years. Other foals followed such as Brockwell Puffin, Brockwell Twiggy, Brockwell Muslin (dam of Bunbury Mahogany senior stud stallion) and Brockwell Briar (Sec A). Brockwell Jemima (dam of Brockwell Jaguar) and Brockwell Briar (Sec B) were left to me as Mrs Binnie retired from Breeding.
Early stud sires included Lydstep Barman, Downland Beechwood and Brockwell Chuckles to ensure true Welsh bone and character.
The purchase of Pencot Clematis at Fayre Oaks as a wife for Mahogany followed some years later. Her stock offspring including Bunbury Clementine (exported to Germany), B Carena, B Czar, B Cameila (exported to Denmark) & B Clematis. B. Cashmere, B. Crinoline, B.Confetti and B. Charlotte are all retained in the stud.
Millcroft Seraphin was purchased as another wife for Mahogany. Her offspring include B.Samuel, B. Sebastien, B. Serena (by Figaro), B Subaru (by Figaro). Bunbury Samba and B Saphire & B Satinwood (Junior stud Stallion) are retained in the stud.
I hope that you take time to look at this website and see true Welsh ponies that stem from some of the oldest bloodlines

Email: bunburyponies@yahoo.co.uk